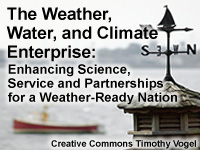 Languages: English
Publish Date: 2019-12-24
Skill Level:

0

Completion Time: .50 - .75 h
Includes Audio: yes
Required Plugins: none
Topics:
Other
Overall Rating:

(164 ratings)

Read or add reviews

Take the quiz?

Share this resource:
After completing the instruction, the learner will be able to answer the following questions:
What is the Weather Enterprise?
How have weather services evolved in the recent past?
How do the different sectors work together?
What is each sector's role in the Weather Enterprise?
How does each sector partner and/or collaborate with other members of the Weather Enterprise?
How do these partnerships advance the Weather Enterprise?
Looking forward, how are the different sectors changing?
How do NWS weather forecasters work with Core Partners and members of the AWCI to provide IDSS and other weather services?