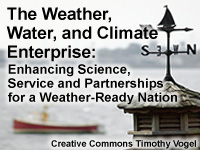 Languages: English
Publish Date: 2019-12-24
Skill Level:

0

Completion Time: .50 - .75 h
Includes Audio: yes
Required Plugins: none
Topics:
Other
Overall Rating:

(192 ratings)

Read or add reviews

Take the quiz?

Share this resource:
The Weather Enterprise, also known as The Weather, Water, and Climate Enterprise, is comprised of three main sectors that contribute to the science and application of weather and weather forecasting -- academia, government, and the Weather and Climate Industry. In this lesson we explore the Weather Enterprise. In short videos, a panel of prominent experts answer several questions that address the roles of the different sectors, how they interact, and how the Weather Enterprise might evolve in the future. At the end of this lesson, we present scenarios that explore some of the many ways that weather forecasters in the U.S. National Weather Service (NWS) interact with NWS Core Partners, as well as members of the Weather and Climate Industry.