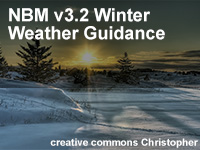 Take the quiz?

Share this resource:
Winter weather is one of the more challenging aspects of operational weather forecasting. Factors affecting the impact of winter storms include precipitation type, timing of precipitation onset and precipitation type changeovers, winds, visibility, temperature, and the temporal and spatial scales of high impact weather features such as mesoscale precipitation bands. The National Blend of Models version 3.2 incorporates a number of NWP model and ensemble forecast system (EFS) components. To make the probabilistic guidance more robust, deterministic components of the blend are combined with each ensemble member of the EFS to develop probabilistic winter guidance. This guidance helps the operational forecasters provide decision support to government officials, responding to winter weather events.
This lesson will help operational weather forecasters use NBM v3.2 winter weather guidance to assess risk and make forecasts for winter weather events.