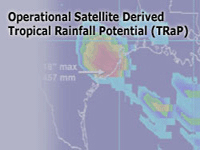 Publish Date: 2004-04-19
Retired Date: 2012-04-10
Overall Rating:

(1 rating)

Read or add reviews


This module has been retired and is no longer available on MetEd.


This module, presented by Sheldon Kusselson (Satellite Analysis Branch, NESDIS), traces the evolution of the TRaP (Tropical Rainfall Potential) product through early 2004. The TRaP technique was developed for estimating rainfall amounts prior to the onset of tropical cyclone conditions, and during the 2009 hurricane season was replaced by an improved version known as the ensemble TRaP product (or eTRaP). Despite availability of the newer eTRaP product, the orignal TRaP estimates continue to play an important role by providing vital input to the new technique. Training that addresses the newer eTRaP product and its use is under development and will be available during the summer of 2010. The current TRaP module includes numerous examples from the 2002 and 2003 hurricane seasons comparing model precipitation forecast amounts, TRaP estimated rainfall amounts, and observed rainfall. Guidelines for using the TRaP product and improvements that were anticipated in 2004 are presented at the conclusion of the module.