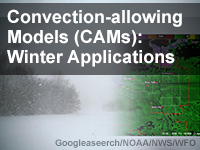 Languages: English
Publish Date: 2019-04-26
Last Updated On: 2019-04-24
Skill Level:

2

Completion Time: .50 - .75 h
Includes Audio: no
Required Plugins: none
Overall Rating:

(117 ratings)

Read or add reviews

Take the quiz?

Share this resource:
List which NWP models allow convection.
Explain why we need convection-allowing models (CAMs) at high resolution.
List and describe winter weather weather phenomena that benefit from CAM forecasts.
Compare guidance from CAMs to observations to identify advantages and limitations of CAM output for winter weather guidance.
Use radar, surface, and satellite observations to validate and/or adjust CAM guidance.
Use CAM products to determine possible impacts from winter weather (including precipitation type, precipitation amount, and blizzard conditions).
Update existing forecasts using guidance from CAMs.