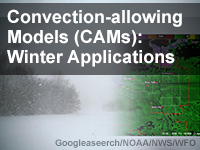 Languages: English
Publish Date: 2019-04-26
Last Updated On: 2019-04-24
Skill Level:

2

Completion Time: .50 - .75 h
Includes Audio: no
Required Plugins: none
Overall Rating:

(114 ratings)

Read or add reviews

Take the quiz?

Share this resource:
In this lesson, forecasters will practice using guidance from different convection-allowing models (CAMs) over the short term. As they review and analyze the model guidance they will encounter some of the advantages and limitations of using CAMs for winter weather.