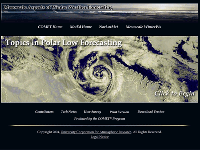 Languages: English
Publish Date: 2004-04-02
Skill Level:

2

Completion Time: 1.25 - 1.50 h
Includes Audio: yes
Required Plugins: Flash
Topics:
Winter Weather
Overall Rating:

(24 ratings)

Read or add reviews

Take the quiz?

Share this resource:
This module presents an overview of the climatology, formation, evolution, detection, and forecasting of polar lows. The presentation has five sections: Disturbances in Cold Air Masses; Climatology of Cold Air Vortices and Polar Lows; Monitoring and Nowcasting of Polar Lows; Polar Lows and NWP; and Forecasting Process for Polar Lows. It also includes a printable forecasting checklist.