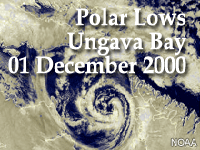 Languages: English
Publish Date: 2004-04-02
Skill Level:

2

Completion Time: 1.50 - 2.00 h
Includes Audio: yes
Required Plugins: Flash
Topics:
Winter Weather
Overall Rating:

(1 rating)

Read or add reviews

No quiz for this resource

Share this resource:
Polar lows are generally short-lived but intense events that occur over cold ocean waters, poleward of a baroclinic zone. The polar low in this case formed over the open waters of Ungava Bay, in northeastern Canada, on 2 December 2000. The case is presented as a series of challenging forecast questions followed by a more traditional case study presentation. Included in this exercise is a rich set of data products and access to background materials on polar low forecasting.