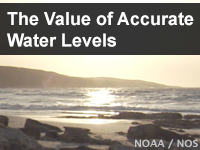 This content is not hosted on MetEd.
No quiz for this resource

Share this resource:
After viewing the video, the learner will be able to:
Recall that the National Water Level Observing Network (NWLON) provides timely accurate real-time water level data.
Recall several decision makers and communities that benefit from accurate water level data.
Describe how accurate water level data is used in support of the economy, public safety, and quality of life along the coast.