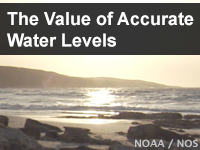 This content is not hosted on MetEd.
No quiz for this resource

Share this resource:
NOAA's Center for Operational Oceanographic Products and Services (CO-OPS) operates the National Water Level Observation Network (NWLON) a system of water level sensors, that form the backbone of our nation's coastal observation infrastructure. This short video, intended for decision makers and the general public, describes the value of accurate NWLON water level data provided by CO-OPS.