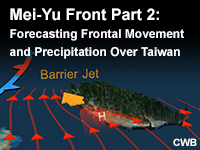 Take the quiz?

Share this resource:
This is the second lesson in the Mei-Yu Front Series. In this lesson (available in Traditional Chinese) learners will use satellite and radar observations and model guidance to determine the short-term trend in the Mei-Yu front's movement and associated convective intensity. These techniques can be applied during both Type-1 and Type-2 Mei-Yu precipitation events.
Before viewing this lesson, make sure you have completed the "Mei-Yu Front, Part 1: Ingredients for Heavy Precipitation and the Forecast Process in Taiwan".