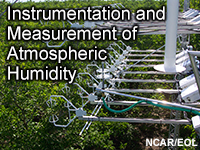 Take the quiz?

Share this resource:
Define the different measures used to describe the amount of water vapor in the air.
Describe the saturation vapor pressure equation and its relation to water vapor and temperature.
Differentiate among the properties of water (effect on material properties, thermodynamic properties, optical properties ) used to measure water vapor.
Distinguish among different methods for measuring water vapor, including the uses and limitations of various instruments.
Describe common issues affecting measurements of water vapor.