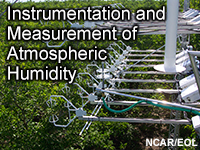 Take the quiz?

Share this resource:
This lesson provides an overview of the science and techniques related to measuring humidity, or the amount of water vapor, in Earth's atmosphere. After beginning with a review of the units used for humidity, the learner will examine the three main types of hygrometers (material, thermodynamic, and optical) and explore instruments within each of these categories. The lesson provides information about the advantages and limitations of various humidity instruments. The effects of siting, sheltering, and ventilation on humidity measurements are also addressed. The lesson is part of the
Instrumentation and Measurement of Atmospheric Parameters
course series.