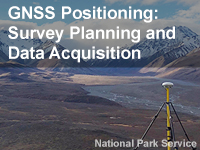 Languages: English
Publish Date: 2020-08-14
Skill Level:

1

Completion Time: 1.25 - 1.50 h
Includes Audio: yes
Required Plugins: none
Topics:
Geospatial
Overall Rating:

(257 ratings)

Read or add reviews

Take the quiz?

Share this resource:
With the common adoption of GNSS in land surveying, best practices have evolved with improving hardware and faster data processing. This lesson follows several surveyors as they work their way through projects, touching all aspects from initial planning up through field work. In the process they gather all the necessary data to begin processing that data.