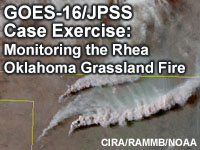 Take the quiz?

Share this resource:
Identify different satellite products that can be used to detect and monitor fires and smoke.
Compare and contrast the environmental information provided by both high temporal resolution and high spatial resolution products.
Interpret relevant geostationary and polar-orbiting satellite products to maximize the utility of the information they provide for detection and monitoring of wildland fire and smoke.
Evaluate potential fire and smoke impacts and the status of the evolving fire using the current new-generation GOES-R and JPSS satellite products presented in the lesson.