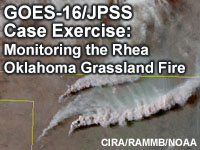 Take the quiz?

Share this resource:
The current GOES-R and JPSS meteorological satellites have improved capabilities for enhanced fire detection that include more effective monitoring of fire starts, evolution, and smoke. This lesson provides forecasters and others with the opportunity to become more familiar with both GOES-R and JPSS satellite products (including the longwave-shortwave IR difference, Fire Temperature RGB, GeoColor, GOES-R Fire Mask, JPSS Active Fire, and others) during the onset of a large grassland fire event, known as the Rhea Fire, that affected western Oklahoma from April 12-18, 2018.
Interactions and questions provide opportunities for practice using satellite products to analyze different phases of a grassland fire cycle, and feedback reinforces product strengths and limitations as well as best practices.