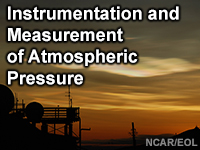 Take the quiz?

Share this resource:
This lesson provides information about current science and technologies for measuring pressure in the atmosphere. The lesson begins by reviewing the key physical laws governing atmospheric pressure, including Dalton's Law of Partial Pressures. Then, it explores typical requirements and uncertainty parameters related to atmospheric pressure sensors and provides details about the components of pressure sensors, including fluidic, mechanical, and electronic transducers. The lesson is part of the
Instrumentation and Measurement of Atmospheric Parameters
course series.