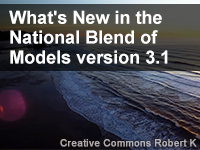 This content is not hosted on MetEd.
No quiz for this resource

Share this resource:
Intended for U.S. National Weather Service forecasters, this short video describes changes to the NWS National Blend of Models when it was updated to v3.1. These changes include:
More global, mesoscale, and ensemble components;
Increased spatial resolution of some components;
New and improved weather elements for aviation, QPF, winter, fire, and marine weather forecasting;
Significant wave height for offshore waters and the Great Lakes;
Improved bias correction;
MOS-like text products;
Shortened NBM forecast projections delivered at 19 UTC.
For an illustrated transcript, see
What's New in NBM v3.1?
(
http://www.meted.ucar.edu/nwp/blend_v31/NBM_v31_script.pdf
)