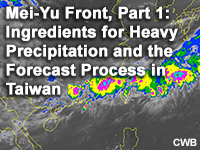 Take the quiz?

Share this resource:
After completing the lesson, learners will be able to:
Describe the Mei-Yu forecast process in Taiwan.
Describe the important Mei-Yu front parameters and their role in the 3D structure.
Use the Mei-Yu front Checklist prepared by the Central Weather Bureau (CWB) to determine the potential time for intense rainfall over Taiwan.
Describe the two main heavy rainfall patterns associated with the Mei-Yu front.
Determine the possible area of torrential rainfall using the appropriate Mei-Yu parameters.
Use soundings and satellite observations to increase forecasters' confidence in the possible area of heavy rainfall.