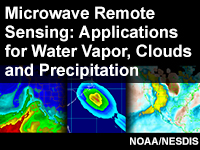 Take the quiz?

Share this resource:
State the definitions of total precipitable water and cloud liquid water.
Describe the benefits of using microwave products alongside infrared imagery (window and water vapor bands).
Describe the difference between window regions and absorption regions of the electromagnetic spectrum.
Identify the differences between microwave scattering and emission channels.
Describe the difference between deriving precipitation rates over land vs. ocean (in the context of microwave channel selection).
Identify which microwave bands are more applicable for different use cases.
Interpret total precipitable water and rain rate products and microwave imagery using case examples.