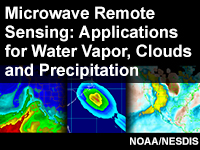 Take the quiz?

Share this resource:
This lesson introduces microwave products available from JPSS and other polar and low Earth orbiting satellites that depict clouds, atmospheric moisture and precipitation through the use of passive microwave sensing instruments.
Through an exploration of two separate case exercises, one focused on an atmospheric river event and another on a hurricane, learners will be presented with total precipitable water (TPW), cloud liquid water (CLW), and rain rate products along with other imagery to interpret and analyze. Throughout the cases and in the content leading up to the exercises, foundational science and terminology will be addressed. The lesson presents key relevant microwave sensing concepts (e.g., spectral selection, atmospheric absorption, emission and scattering by cloud and precipitation particles) upon which precipitable water, cloud water, and precipitation products are based, and includes information on product strengths and limitations.