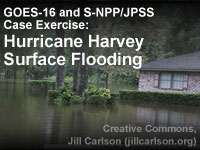 Publish Date: 2018-07-03
Skill Level:

1

Completion Time: .50 - .75 h
Includes Audio: no
Required Plugins: none
Overall Rating:

(105 ratings)

Read or add reviews

Take the quiz?

Share this resource:
Satellite data are important tools for analyses and short-term forecasts of surface floodwater. This lesson will highlight the August 2017 flooding associated with Hurricane Harvey in southeastern Texas, one of the most costly weather disasters in U.S. history. Through the use of interactive exercises the learner will become familiar with use and interpretation of satellite imagery in regions with surface flooding. The lesson will use data from both the S-NPP Visible Infrared Imaging Radiometer Suite (VIIRS) and the GOES-16 Advanced Baseline Imager (ABI). The satellite-derived flood map and the data that go into the flood map will both be highlighted in the lesson. Examples of floodplain inundation, interbasin transfer, and water pooling in reservoirs will be shown along with issues related to spatial and temporal resolution.