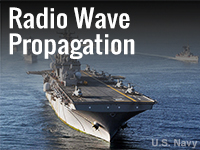 Take the quiz?

Share this resource:
After completing this instruction, the learner should be able to do the following:
Describe the effect of the Earth's atmosphere on radio waves
Troposphere
Stratosphere
Ionosphere
Explain the two principal ways in which electromagnetic (radio) energy travels from a transmitting antenna to a receiving antenna.
Ground Waves

Surface Waves
Space Waves

Sky Waves

Structure of the Ionosphere
Ionization
Layers

D layer
E layer
F1 Layer
F2 Layer

Refraction in the Ionosphere

Density of the Layer
Frequency
Angle of Incidence

Skip Distance/Skip Zone
Propagation Paths
Absorption in the Ionosphere
Fading

Multipath Fading
Selective Fading

Transmission Losses

Ground Reflection
Free Space Loss
Discuss the regular and irregular variations that affect the extent of ionization in the ionosphere.
Electromagnetic Interference

Man-made Interference
Natural Interference

Variations in the Ionosphere

Daily Variations
Regular Variations
Seasonal Variations

Eleven-year Sun Spot Cycle
27-Day Sun Spot Cycle
Irregular Variations

Sporadic E
Sudden Ionospheric Disturbances
Ionospheric Storms
Describe the frequency selection consideration for HF propagation.
Maximum Usable Frequency
Lowest Usable Frequency
Optimum Working Frequency
Space Weather Variables and why they matter
Solar Effects on HF Propagation

Sunspots
Ionospheric Storms (Geomagnetic Storms)
Polar Cap Absorption Events (PCA)
Sudden Short Wave Fade (SSWF)

Space Weather Indices and other factors

K-Index
Kp Index
a Index
A Index
Ap Index
10.7 cm flux
Sunspot number and Smoothed sunspot number (SSN)