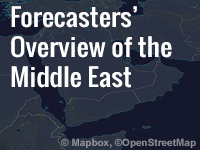 Take the quiz?

Share this resource:
This lesson provides an introduction to the Middle East for Navy meteorologists. It focuses on the major aspects of synoptic and mesoscale weather patterns, hazards to aviation and maritime operations, geography, oceanography, and climatology. The "Geography" Unit covers major political boundaries, cities, ports, topographical features, rivers, and seismicity. The "Oceanography" Unit includes major bathymetric features, mean sea surface temperature, vertical temperature profiles, salinity and velocity, ocean currents, and tidal ranges. The "Climatology" Unit covers the seasonal climatology of jet streams, synoptic weather systems, extratropical cyclones, and monthly and seasonal statistics of high winds and seas. The "Weather Events" and "Hazards to Operations" Units cover dust storms, hazards to personnel, and other marine and aviation hazards.
The lesson will take around two and half hours to complete (not including the quizzes).