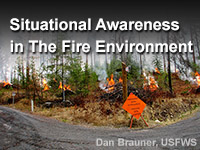 Languages: English
Publish Date: 2018-08-03
Skill Level:

1

Completion Time: .75 - 1.00 h
Includes Audio: yes
Required Plugins: none
Topics:
Fire Weather
Overall Rating:

(170 ratings)

Read or add reviews

Take the quiz?

Share this resource:
Maintaining situational awareness is a crucial skill in every decision-support situation. Wildland fires that threaten populated areas have the potential to inflict devastating damage to communities and can also threaten the personnel working on the fire. This lesson introduces the Situational Awareness Cycle. Learners practice using it to continuously monitor and adapt their support strategies and decision-support information depending on the rapidly evolving wildfire conditions. The lesson also discusses a range of tools that can be used to build and maintain situational awareness.