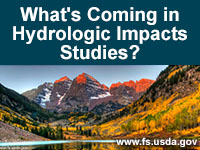 Take the quiz?

Share this resource:
Identify what types of data and practices would be useful for a climate change impacts study.
List three advantages of using the ICAR model over the use of the statistically downscaled output from a general circulation model (GCM).
Describe three factors to consider in order to use climate and hydrology models effectively.
Explain the advantages of using multiple model projections to capture the range of possibilities.
Describe the potential advantages and limitations of using high resolution models.
Identify the first step in planning and executing a climate change impacts studList a few important elements of a climate impacts study that are influenced by the climate question of interest.
Interpret a graphical depiction from a climate change impacts study.