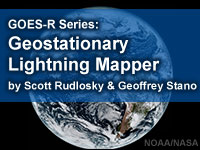 Take the quiz?

Share this resource:
In this webinar recording Scott Rudlosky and Geoffrey Stano discuss and demonstrate the capabilities of the GOES-R/16 Geostationary Lightning Mapper (GLM) in both operational and research applications. You will learn how the GLM, the first lightning mapper in geostationary orbit, differs from land-based lightning detection. The presenters summarize important processes known as lightning events, group, flashes, and lightning jumps and show products that illustrate the location and areal extent of lightning, and its evolution in cloud systems. With this information you should be able to integrate lightning data into studies about storm type and evolution, lightning safety, lightning climatology, multi-sensor products, wildfire initiation, and more.
This is a recorded webinar presented by instructors at their home institutions. Audio variations may exist.