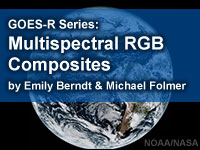 Take the quiz?

Share this resource:
In this webinar recording Dr. Emily Berndt and Dr. Michael Folmer discuss the capabilities of the GOES-R/16 Red-Green-Blue (RGB) composites. Multispectral or RGB composites are qualitative, false color images designed to enhance specific features in the atmosphere that are important to forecasters, aviators, mariners, and emergency response officials. RGB composites have been enthusiastically integrated into forecast operations because of their ability to highlight the presence and evolution of important forecast phenomena. This presentation details the development of RGB composites and provide examples of RGB use for atmospheric dust, volcanic ash, cyclogenesis, air mass characteristics, fog, and low clouds.
This is a recorded webinar presented by instructors at their home institutions. Audio variations may exist.