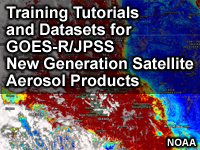 This content is not hosted on MetEd.
No quiz for this resource

Share this resource:
Identify the satellite aerosol, fire, and visible color imagery products available from SNPP/VIIRS and GOES-16/ABI that are useful for air quality applications.
Describe the strengths and limitations of the satellite products, including temporal/spatial resolution, latency, column vs. surface measurements, and data availability.
Describe how specific satellite products can be utilized for different types of air quality-related events, with a focus on operational situations.