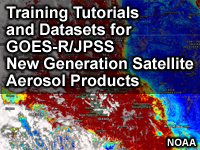 This content is not hosted on MetEd.
No quiz for this resource

Share this resource:
These free training resources include video tutorials as well as case studies with accompanying data and imagery. The resources introduce the new generation of aerosol products available from the JPSS series of polar-orbiting satellites (SNPP/VIIRS) and the GOES-R series of geostationary satellites (GOES-16/ABI). Users will learn about the types of satellite aerosol products available, including aerosol optical depth/thickness (AOD/AOT) and aerosol detection (smoke/dust masks), as well as complimentary satellite products, such as fire radiative power (FRP) hotspots and visible color imagery (RGBs). The emphasis is on operational applications for air quality, particularly fires/smoke and haze.
The satellite aerosol product training resources are developed and maintained by the NOAA Satellite Air Quality Proving Ground (AQPG) project and are not produced, owned or hosted by UCAR/COMET.