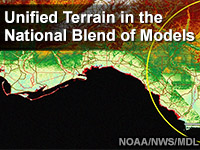 Take the quiz?

Share this resource:
This lesson discusses errors associated with the use of inconsistent terrain in the analyses in the Real-Time and the Un-Restricted Mesoscale Analyses (RTMA and URMA, respectively), and in downscaling numerical weather prediction model data to the resolution of the U.S. National Weather Service National Blend of Models (NBM). The sources of these inconsistencies are examined, and the errors that result are discussed.
A solution is to use a unified, consistent terrain in the analyses and the NBM. This solution is only partial however, as resolution of small, meteorologically significant features is still somewhat limited. Poorly resolved physical features will still result in analysis and forecast error in some circumstances.