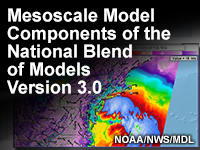 Take the quiz?

Share this resource:
The National Weather Service National Blend of Models (NBM) was updated to version 3.0 on 27 July 2017. Changes include:
Eight new components for the contiguous U.S. (CONUS) and Alaska, including four deterministic models, two ensemble systems, and two post-processed statistical components
Five new components for Hawaii and Puerto Rico
Expanded forecast domains for the CONUS and Alaska
A "Time of Day" (ToD), rather than NWP model, initial time concept
Hourly NBM forecasts, with short, day 2-4, and extended forecasts
Updated NBM guidance available 50-60 minutes after hourly run time
New weather elements for aviation and winter weather forecasting including precipitation type; and new QPF, cloud bases, ceilings, and visibilities
New computation methods for wind direction and doubling of model components for ocean winds
NBM v3.0 products have different characteristics from the previous v2.0. Coupled with the new "ToD" paradigm and new weather elements, the new NBM v3.0 results in big changes to forecast operations.
This lesson starts with a five-minute video that describes these changes. Then to illustrate how forecast operations will be affected, we follow forecasters through important parts of a day shift, using NBM products to predict a winter storm.