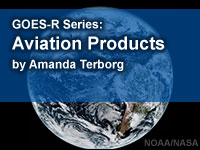 Take the quiz?

Share this resource:
In this webinar recording, Amanda Terborg (with input from Dr. Chad Gravelle), will demonstrate the capabilities of GOES-R/16 in analyzing hazards affecting the aviation industry. The talk focuses specifically on four hazards (but there are others): 1) fog and low stratus, 2) in-flight turbulence, 3) dust, and 4) volcanic ash. Through the use of GOES-R/16 spectral bands, band differences, and RGB composites, satellite data users can detect the development and evolution of aviation threats better than with any previous geostationary satellites.
This is a recorded webinar presented by an instructor at her home institution. Audio variations may exist.