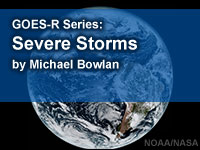 Take the quiz?

Share this resource:
In this webinar recording, Michael Bowlan explains how GOES-R/16 can help improve forecasts of severe storms and provide forecasters with real-time information about lightning, flooding potential and other hazards. The high-resolution Advanced Baseline Imager (ABI) data can indicate whether thunderstorm updrafts are gathering strength or weakening, helping aid forecasters in making warning decisions. The ABI can also aid in identifying storms and convective complexes that have stalled or are "training", which can signal a flood risk and help forecasters issue flood or flash flood warnings sooner. Lightning data provided by the Geostationary Lightning Mapper (GLM) will help forecasters and fire analysts identify areas prone to wildfires sparked by lightning, as well as give insight into a storm's severe potential.
This is a recorded webinar presented by an instructor at his home institution. Audio variations may exist.