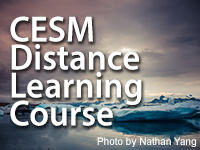 No quiz for this resource

Share this resource:
The Community Earth System Model (CESM) is a fully-coupled, community, global climate model that provides state-of-the-art computer simulations of the Earth's past, present, and future climate states. The CESM Distance Learning Course is based on the CESM Tutorial held annually at the National Center for Atmospheric Research (NCAR) in Boulder, Colorado. This course consists of 12 lectures and 4 practical sessions on simulating the climate system and practical sessions on running Community Earth System Model (CESM), modifying components, and analyzing data. The course is targeted at the graduate student level.