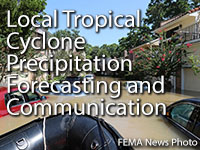 Take the quiz?

Share this resource:
Explain how TC characteristics (track, intensity, forward speed) and terrain can affect TC precipitation distribution and magnitude.
Explain the importance of antecedent conditions when determining TC flood potential.
Assess the heavy rain potential and identify the areas most likely to be affected.

Determine the potential flooding rain impacts of a TC upon a WFO's local area of responsibility.

Derive an appropriate flash flood and/or river flood message for societal response.

Describe situations when a FLASH FLOOD EMERGENCY should be issued.
Coordinate/collaborate TC rainfall forecasts with WPC, RFCs, and other WFOs (via NWSChat, phone, etc.).