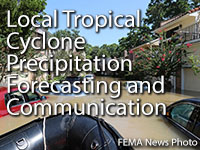 Take the quiz?

Share this resource:
This lesson introduces learners to the challenges in predicting and communicating localized tropical cyclone (TC) rainfall threats. The lesson discusses the key ingredients conducive for heavy TC rainfall, and the tools used by the National Weather Service to forecast it. Learners work through a TC case to practice interpreting precipitation guidance correctly and communicating the threat and impacts. The lesson also highlights the issuance of flash flood emergencies and areal flood warnings during TC events, and how to best communicate TC rainfall impacts for a local area. The lesson will take 45 minutes to complete (not including the quiz).
We recommend reviewing "WPC Rainfall Guidance for Tropical Cyclones" and "Runoff Processes: International Edition" before beginning this lesson. Learners new to the topic will find those prerequisites helpful.