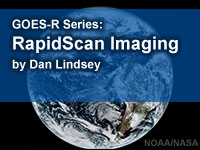 Take the quiz?

Share this resource:
In this webinar recording, Dr. Dan Lindsey presents GOES-16/GOES-R 30-second and 1-minute rapid scan imagery to demonstrate unprecedented views of convection, wildfire, storm intensification, and other quickly-evolving features. GOES-16 rapid scan also enables cloud and feature tracking in and around tropical cyclones. The webinar includes examples of how rapid scan sectors may be prioritized and selected by the National Weather Service. Instructions about how to obtain and use archived data are also provided.
This is a recorded webinar presented by an instructor at his home institution. Audio variations may exist.