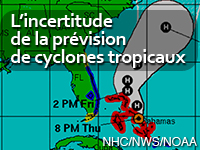 Take the quiz?

Share this resource:
Cette leçon initie l'apprenant au concept d'incertitude et d'erreurs relativement aux prévisions de trajectoire, de chronologie et d'intensité des cyclones tropicaux. Elle explique de quelle façon le National Hurricane Center (le centre de prévision des ouragans des États-Unis) calcule le cône d'incertitude, ainsi que l'utilité de ce cône et les fausses idées qu'il évoque. L'apprenant étudiera l'influence de la trajectoire, de la chronologie et de l'intensité d'un cyclone tropical sur ses impacts potentiels. La leçon suggère des façons de communiquer adéquatement la prévision de cyclone tropical selon son incertitude inhérente. Cette leçon fait partie du cours en ligne
Tropical Cyclone Storm Winds: Forecasting and Communication
.