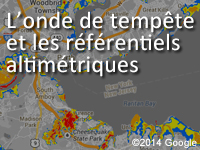 Publish Date: 2017-06-20
Skill Level:

1

Completion Time: .75 - 1.00 h
Includes Audio: no
Required Plugins: none
Overall Rating:

(5 ratings)

Read or add reviews

Take the quiz?

Share this resource:
Cette leçon initie le prévisionniste aux systèmes de référence orthométrique et de référence relative à la marée qui servent à décrire les mesures et les prévisions d'ondes de tempête issues de cyclones tropicaux. Elle présente la façon d'interpréter la prévision d'onde de tempête selon divers référentiels altimétriques.
Cette leçon fait partie du cours en ligne Tropical Cyclone Storm Surge: Forecasting and Communication.