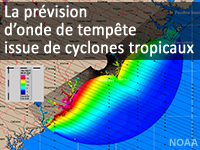 Publish Date: 2017-06-28
Skill Level:

2

Completion Time: .75 - 1.00 h
Includes Audio: no
Required Plugins: none
Overall Rating:

(5 ratings)

Read or add reviews

Take the quiz?

Share this resource:
Cette leçon initie le prévisionniste aux divers produits probabilistes qu'utilise le centre de prévision des ouragans des États-Unis (National Hurricane Center), afin de prévoir une onde de tempête. Elle donne un aperçu de l'élaboration de ces produits probabilistes, leur utilité et pour quelle raison ils sont préférables aux produits uniquement déterministes pour des cas particuliers. L'apprenant pourra s'exercer à interpréter correctement les produits probabilistes de prévision d'onde de tempête selon les étapes d'un événement, ou délais de prévision.
Une connaissance de base des prévisions probabilistes est requise.
Cette leçon fait partie du cours en ligne Tropical Cyclone Storm Surge: Forecasting and Communication.