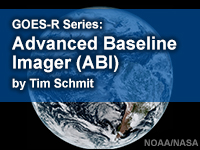 Take the quiz?

Share this resource:
In this webinar recording, Tim Schmit demonstrates the improved temporal, spatial, spectral and calibration attributes of the Advanced Baseline Imager (ABI) on the GOES-R series. The main uses for each of the sixteen spectral bands will be covered, using examples from the recently launched GOES-16 ABI. Imagery and data loops for various types of atmospheric phenomena will be presented to illustrate the improved spectral capabilities and higher temporal and spatial resolution of the ABI.
This is a recorded webinar presented by an instructor at his home institution. Audio variations may exist.