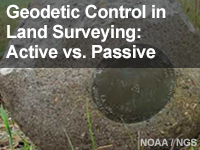 This content is not hosted on MetEd.
Languages: English
Publish Date: 2018-02-13
Skill Level:

1

Completion Time: 0 - .25 h
Includes Audio: yes
Required Plugins: none
Topics:
Geospatial
Overall Rating:

(3 ratings)

Read or add reviews

No quiz for this resource

Share this resource:
Aimed at surveyors and GIS professionals, this video explains the difference between active and passive control methods in surveying, and the strengths and weaknesses of each. Passive control is the traditional method of referencing positions to physical benchmarks that have known locations. Active control references positions to one or more Continuously Operating Reference Stations (CORS). These stations use continuous contact with global navigation satellite systems (GNSS/GPS) to provide a highly accurate and updated position.