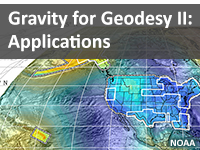 Languages: English
Publish Date: 2017-09-21
Skill Level:

2

Completion Time: .75 - 1.00 h
Includes Audio: no
Required Plugins: none
Topics:
Geospatial
Overall Rating:

(119 ratings)

Read or add reviews

Take the quiz?

Share this resource:
After completing the lesson, a learner will be able to do the following:
Define gravitational potential energy.
Define an equipotential (level) surface.
Describe how level surfaces aren't parallel and their spacing changes.
Explain the impact of gravity variations in determining flood plains.
Explain how orthometric correction is applied to leveling measurements.
Explain methods for measuring gravity.
Define the geoid and its relationship to gravity and sea level.
Explain why models of the geoid are necessary.
Give examples of places where airborne gravity can collect better data than other gravity methods.
Explain the goals of GRAV-D program.
Explain that the gravity field varies over time.