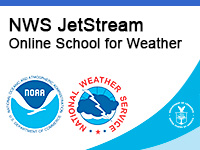 This content is not hosted on MetEd.
Languages: English
Publish Date: 2016-12-21
Skill Level:

0

Completion Time: 3.00 - 4.00 h
Includes Audio: no
Required Plugins: none
Overall Rating:

(3 ratings)

Read or add reviews

No quiz for this resource

Share this resource:
Objectives:
Students will understand the basic composition of the atmosphere including the phenomena that occurs from ground level to the extreme reaches of the earth's atmosphere. Topics include a section on air pressure, transfer of energy, balance of energy and the hydrologic cycle.
Students will be able to describe various effects of the ocean in relation to land masses, circulations within the ocean, and important actions to take if caught in a rip current.
After reviewing the global weather section of the course, students will understand the effect of the earth's rotation and its yearly revolution around the sun. This will include synoptic (large scale) phenomena such why we have four seasons and include topics of climate and types of weather and climate.
Students will understand the various type of clouds, how and why they develop and the levels in the atmosphere they occur.
Students will gain an understanding of the upper parts of atmosphere where weather occurs and how meteorologists use various techniques to measure parameters for diagnosing and forecasting the weather.
Students will learn about different types of air masses including cold and warm fronts and the cyclone model.
Students will be exposed to multiple weather phenomena such as thunderstorms and the ingredients of them, the life cycle of a thunderstorm, and various hazards associated with thunderstorms.
Several sections of this course include topics on derechos, tropical weather, Doppler radar, and tsunamis.
Students will understand the background on the history of the National Weather Service, the components of the organization across the US and careers in the field of atmospheric science along with universities offering degrees in atmospheric sciences and the coursework for these degrees.