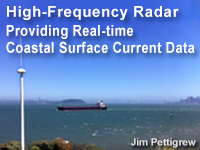 This content is not hosted on MetEd.
Languages: English
Publish Date: 2017-01-20
Skill Level:

0

Completion Time: 0 - .25 h
Includes Audio: yes
Required Plugins: none
Overall Rating:

(3 ratings)

Read or add reviews

No quiz for this resource

Share this resource:
Appreciate the important role that HF radar products play in critical coastal operations such as hazardous spill response.
Explain how high-frequency (HF) radar works.

Describe the difference between HF radar and other more familiar types of radar.

Describe the basic capabilities and limitations of HF radar.

Describe common applications of data derived from HF radar.