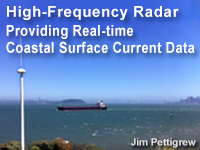 This content is not hosted on MetEd.
Languages: English
Publish Date: 2017-01-20
Skill Level:

0

Completion Time: 0 - .25 h
Includes Audio: yes
Required Plugins: none
Overall Rating:

(3 ratings)

Read or add reviews

No quiz for this resource

Share this resource:
Produced in collaboration between NOAA's National Ocean Service (NOS) US Integrated Ocean Observing System (IOOS) Program Office and The COMET Program, this video explains how high-frequency radar (known as HF radar) is used to provide detailed information in real-time on coastal ocean surface currents. It describes the important role that HF radar products play in critical coastal operations such as hazardous spill response. Finally, it covers basic capabilities and strengths of HF radar as well as how to access coastal current data.
Coastal decision-makers and managers across all levels of government, users of navigation products, as well as coastal environmental resource managers will find this 5 minute video helpful for better understanding and making use of real-time coastal current information obtained from HF radar. Fisheries management, scientific users as well as the members of the general public may also find it useful.
For more information on high-frequency radar, visit https://ioos.noaa.gov/project/hf-radar/.