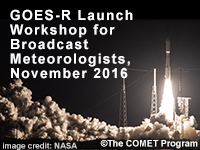 Languages: English
Publish Date: 2017-01-19
Skill Level:

2

Completion Time: 5.00 - 6.00 h
Includes Audio: yes
Required Plugins: none
Overall Rating:

(40 ratings)

Read or add reviews

Take the quiz?

Share this resource:
Identify driving factors and key initiatives in the evolution of NWS services including impact-based decision support.
Identify key instruments on GOES-R and their functions.
Describe basic features of the ground control system.
Describe the importance of space weather and the role GOES-R will play in keeping us informed about it.
Describe key features and capabilities of the advanced baseline imager (ABI) instrument on GOES-R.
Describe key features and capabilities of the geostationary lightning mapper (GLM) tool on GOES-R.
Identify key improvements in GOES-R instruments for such areas as IR imagery, water vapor, and motion detection and how these tools will support improved weather forecasts.
Describe key features of GOES-R improved sensors and refresh rates and how these will support enhanced understanding of storm development processes.
Describe how the increased data supplied by the GOES-R systems will be managed and accessed through the Max system.
Describe key features of Baron Services, Inc plans for delivering GOES-R data.