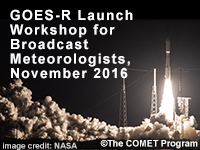 Languages: English
Publish Date: 2017-01-19
Skill Level:

2

Completion Time: 5.00 - 6.00 h
Includes Audio: yes
Required Plugins: none
Overall Rating:

(41 ratings)

Read or add reviews

Take the quiz?

Share this resource:
This lesson consists of presentations by nine professionals from NOAA and NASA recorded at the GOES-R Workshop for Broadcast Meteorologists at Kennedy Space Center. The workshop was offered by StormCenter Communications, Inc. in partnership with the COMET Program in conjunction with the November 2016 GOES-R launch. These presentations introduce broadcast meteorologists to the new capabilities of this next-generation weather satellite and cover topics including new instrumentation and data available via the GOES-R series, and how the imagery will improve forecasting. After completing this lesson and passing the quiz, students will receive a certificate which can be used to document continuing education credits toward maintaining certification for the AMS CBM and NWA Seal of Approval.