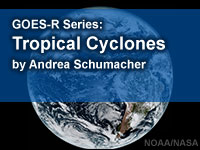 Take the quiz?

Share this resource:
In this webinar recording, Andrea Schumacher demonstrates the GOES-R series' new capabilities for real-time tropical cyclone analysis and monitoring, which will contribute significantly to improved hurricane track and intensity forecasts. The GOES-16 imager will provide dramatic new views of tropical cyclone phenomena, offering vastly improved time and spatial resolution as well as color composite images to enhance cloud bands and other features. This webinar will also explore the role of the Geostationary Lightning Mapper (GLM) in helping identify areas of strong thunderstorms associated with tropical cyclone intensification.
This is a recorded webinar presented by an instructor at her home institution. Audio variations may exist.